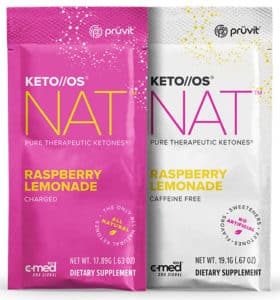 The Keto Reboot System is a 60 hour fast designed to reprogram your long-term metabolism into a fat-burning mode starting with a system reboot.
Be part of this exclusive 60 Hour community-driven program that takes place once a month! The entire Pruvit Keto Reboot System retails for only $79.00. You'll get coaching, support, accountability, and the highest quality ketone supplements on the market.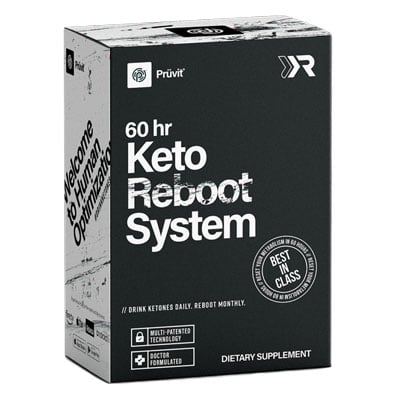 ORDER THE KETO REBOOT

Keto Reboot System by Pruvit Explained
Continue reading to see if the Keto Reboot is right for you!
What is the Pruvit Keto Reboot?
Reprogramming your long-term metabolics into a fat-burning mode starts with a System Reboot using high quality ketone-based products. Hitting a reset on your body's efficiency can set you up for thriving on fewer calories. This 60 Hour Keto Reboot fast promotes metabolic hormone optimization, fat burning, and ketone utilization (instead of that nasty glucose).
You and participants will be creating a calorie deficit and rebooting your body back to its natural state by taking control of unwanted cravings, preserving lean muscle mass, and maximizing your energy. This program was created to inspire and educate individuals to experience innovative Ketone technology while implementing common sense nutrition knowledge to create drastic health improvements.
Who Needs a Reboot?
If you can answer "YES" to any on the following list, YOUR body needs a reboot:
Fall into diet pitfalls over and over
Want to boost mental clarity and focus
Constantly hungry and fighting carb cravings
Inconsistent or poor quality sleep
Suffer from the afternoon energy crash
Feeling bloated and body is stiff
Want to upgrade your physical performance
Keto Reboot Benefits
The Keto Reboot is more than just resetting your metabolism for fat loss. Here are 5 of the top benefits you'll get from your Reboot experience:
1. Regulate your Circadian Rhythm
Literally, it is reseting you and restoring your body's natural cycle. Deeper, better sleep will lead you to waking up refreshed and restored. That lack of energy you initially felt is suddenly transformed into will power and an upbeat drive to kickstart your day!
2. Appetite vs Hunger
Wanting to eat or needing to eat, that is the question! The Keto Reboot helps you identify and work through your appetite and the desire to eat that we are accustomed to. After the 60 hours, you are more aware of when to eat because you're hungry, not because your appetite say it's time.
3. BETTER Mood
Hunger is no match for the Keto Reboot! As your body transitions to utilizing Pure Therapeutic Ketones and your appetite levels out, your mood will stabilize. BETTER mood = BETTER you!
4. Improved Focus
Whether you realize it or not, we're always thinking about when and what we're going to eat for our next meal. Rebooting for 60 hours gives you MORE time to be productive (because you're not focusing on what to cook for dinner), and it also gives you more energy to focus on the task at hand!
5. Trust your Gut, LOVE your Gut
Giving your gut a 60 hour break is returning it back to its natural, balanced state. This 60-hour keto cleanse supports microbial function in your gut, leading to healthy gastrointestinal function and overall health.
It is time to transform into a BETTER YOU!
The Keto Reboot Kit Contains:
KETO//OS NAT, KETO//OS PRO, BETTER// BROTH, SIGNAL//OS, and MITO//PLEX.
The Keto Reboot products contain the technology and science necessary to help you reboot your internal operating system. It starts by removing nutritive energy from food sources in your body over a 60 hour time period, which is then replaced with ketone energy generated through each product that comes in the kit.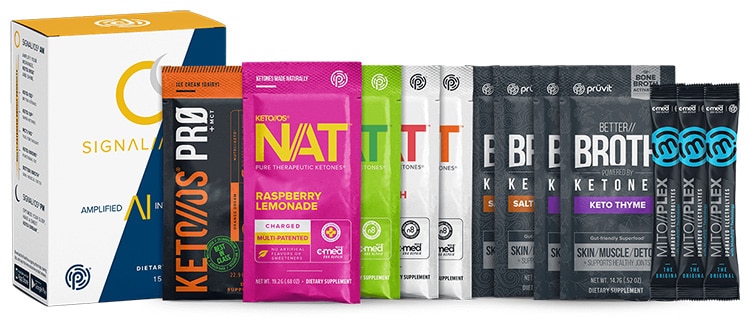 4 x KETO//OS NAT (2 Charged and 2 Caffeine-Free)
KETO//OS NAT contains Pruvit's all-natural KetoNAT ketone salts for a pure ketone energy for your body. What most people, especially in the fitness industry don't realize, exogenous ketones are a caloric nutrient. It's a food nutrient that you don't easily get from food.
Remember, the goal through the Keto Reboot process is to reach a state of autophagy. Our bodies are super human computers. They've got a natural reboot system called autophagy; self eating, self detoxing, self cleaning. We want to maximize our anabolic hormones. We want to regulate and balance, but also make sure we can still function throughout the day.
As we go through the reboot's 60 hours, we still have to go about working in our daily lives. We still need to feel good and have enough energy for our daily activities. That's where KETO//OS NAT is used to provide that extra energy.
Pruvit's NAT ketone salts are a patent-pending proprietary formula. It has fermented leucine and some amino acids that also help with your body's structural support.
The Keto Reboot kit comes with both charged (caffeine), and an uncharged (caffeine-free) versions of KETO//OS.
INGREDIENTS: KetoNAT (R-Beta Hydroxybutyrate), Erythritol, L-Taurine, Fermented L-Leucine, Citric Acid, Natural Flavor, Vegetable Juice Color, Stevia, Xanthan Gum, Caffeine (Charged Version), Beta Carotene, C-Med 100®.
1 x KETO//OS PRO + MCT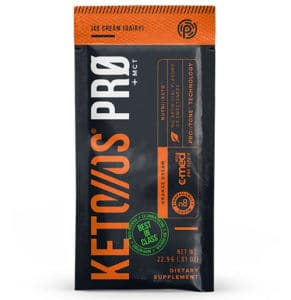 Deciding what your first meal should be once the Keto Reboot ends can be challenging, but we're here to make it simple. With KETO//OS PRO, you'll be optimizing muscle health, improving recovery, enhancing strength and power, and supporting mitochondria with every sip! KETO//OS PRO utilizes a unique compound known as C8 MCT to enhance muscle preservation pathways in addition to elevating ketones.
INGREDIENTS: N8 Bioavailability Blend™: MCT Powder (Medium Chain Triglycerides, Nonfat Dry Milk, Disodium Phosphate), KetoNAT™ (R-Beta Hydroxybutyrate), Fermented L-Leucine. C-Med 100 (Inner Bark of Uncaria Tomentosa), Vitamins B6 and B12.
OTHER INGREDIENTS: Erythritol, Natural flavors, Rebaudioside A (Stevia Extract), Xanthan Gum, Inulin.
4 x BETTER//BROTH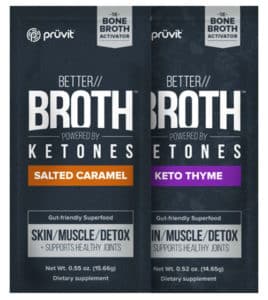 The final of the Keto Reboot products is BETTER//BROTH, a keto bone broth. One of the biggest challenges with fasting is the loss of lean muscle mass. There's a difference between losing weight; which is a combination of muscle mass, fat, and water – versus just fat loss. What Pruvit has done with the BETTER//BROTH is created a collagen protein that's going to provide nutrient value to support retaining your lean muscle mass, healthy joints, and skin.
The Keto Reboot system is it's designed to be very anti-catabolic. The system is very protein sparing and muscle sparing throughout the 60 hour cleanse. As we pull out caloric energy from food, we're still preserving and protecting the lean muscle we have, which taps into body fat where people actually see fat loss.
When you drink BETTER//BROTH you are going to find yourself full and satiated. And it's also going to provide you with the structural support and electrolytes to help feed your body with the micronutrients that it needs on any given day. The addition of ketones will also provide you with clean energy.
INGREDIENTS:
Natural Beef Broth, Natural Chicken Broth, Erythritol, Beta Hydroxybutyrate (Patent Pending), Natural Flavor, L-Leucine (Fermented), Stevia, Type II Collagen Peptides, Xanthan Gum, C-Med 100®, Hyaluronic Acid, Potassium Citrate, Vitamin B6, Vitamin B12.
30 x SIGNAL//OS AM/PM Capsules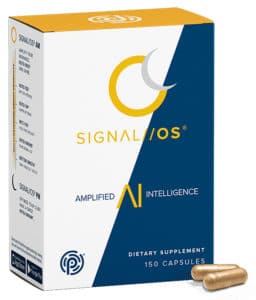 With its patented bioactive ingredients, SIGNAL//OS increases cellular renewal for natural DNA repair. SIGNAL//OS boosts your body's ability to improve DNA and cellular signaling while strengthening your immune system and ability to focus. This innovative bio-technology goes to work by enhancing the way your body communicates and functions at the cellular level for an upgraded experience you can feel.
Our body has 23,000 programs that are running simultaneously at any given time. And so the efficiency of your cells communication with each other is a big deal when it comes to creating metabolic optimization. And one the greatest thing about SIGNAL//OS, is it's going to help with sleep, DNA repair, and overall body optimization.
INGREDIENTS – AM: Vitamin B12 (as methylcobalamin)100 mcg, C-Med 100® (Inner Bark of Uncaria Tomentosa) 350g, Eleutherococcus senticosus 10:1 extract 100mg, Reishi mushroom 100mg, BioPerine® (Black Pepper Extract) 5mg.
INGREDIENTS – PM: L-Theanine 200 mg, C-Med 100® (Inner Bark of Uncaria Tomentosa) 350g, 5 HTP (Grionia Seed) 125 mg, Magnesium Aspartate 100 mg, Valerian Root 100 mg, Ashwaghanda (Root+Arial Part) 100 mg, Lemon Balm Extract 100 mg, BioPerine® (Black Pepper Extract) 5 mg.
3 x MITO//PLEX Electrolytes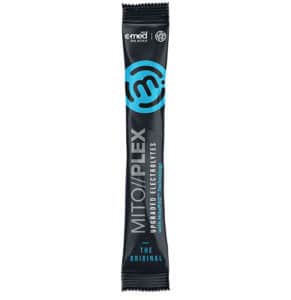 Staying hydrated during the Keto Reboot is crucial to your success. The inclusion of our upgraded electrolytes, MITO//PLEX, will help aid in proper hydration but also improve energy metabolism and mitochondrial biogenesis.
INGREDIENTS: Mitochondrial Matrix Support Blend: Creatine Monohydrate, MitoP2Q™ (as pyrroloquinoline quinone), C-Med 100® (Inner Bark of Uncaria Tomentosa). Vitamin C, Vitamin D3, Niacin, Vitamin B6, Vitamin B12, Magnesium, Potassium.
OTHER INGREDIENTS: Erythritol, Citric Acid, Natural Flavor, Rebaudioside A (Stevia Extract) Caffeine, Vegetable Juice Color, Xanthan Gum, Beta Carotene.
Ready to Discover a BETTER You?
What the "60 Hour" Keto Reboot Schedule Looks Like: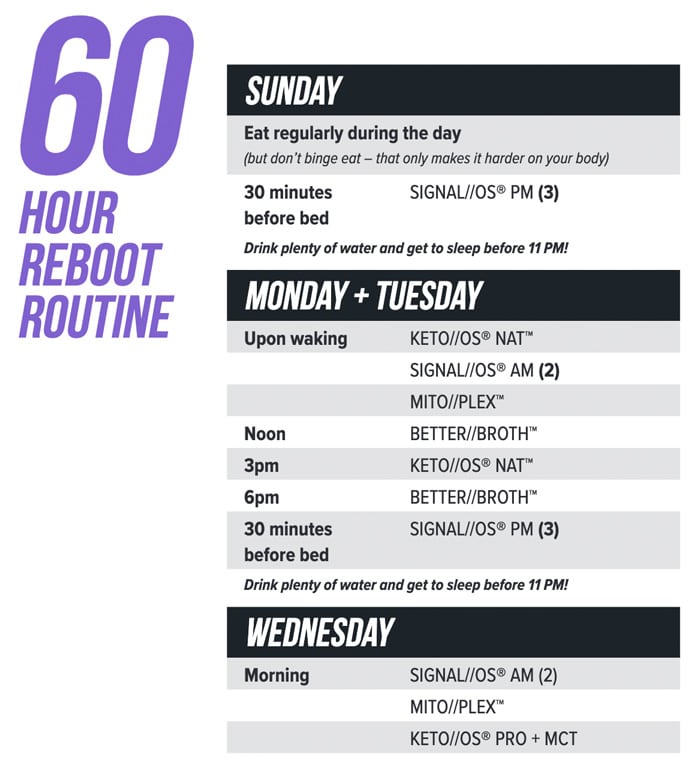 You'll start your Keto Reboot on Sunday night with a dose of SIGNAL//OS PM capsules. Don't overeat, drink plenty of water, and get to bed before 11pm!
On Monday and Tuesday you'll repeat the same keto supplement schedule. Remember to stay active and use the support and help of the certified Pruvit Keto Reboot coaches and community.
The fast ends Wednesday morning with your final dose of SIGNAL//OS AM capsules, MITO//PLEX, and KETO//OS PRO + MCT. It may be tempting, but don't jump right back into a big meal. Start your first meal of the day with some eggs and a nice warm cup of coffee or bone broth.
BEST PRACTICES DURING THE 60 HOUR REBOOT:
In addition to drinking plenty of water, it's always good to have Pink Himalayan salt on hand. If you get a headache, or feel a little week, you can consume a pinch of salt to help. Salt, water, and the Keto Reboot Kit is all you will need over the 60 hours.
Less is more: If it's not water, Ketones, or the Keto Reboot products, it MAY be allowed, but it's NOT recommended.
Before And After Results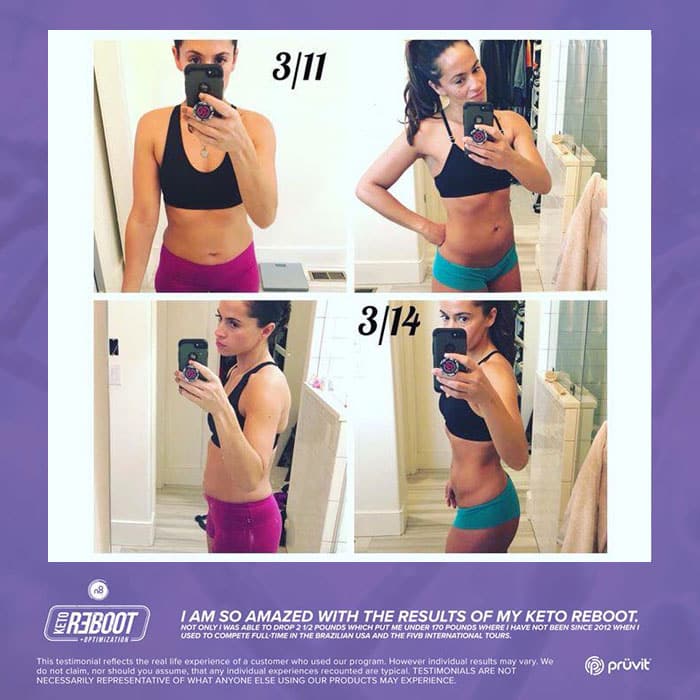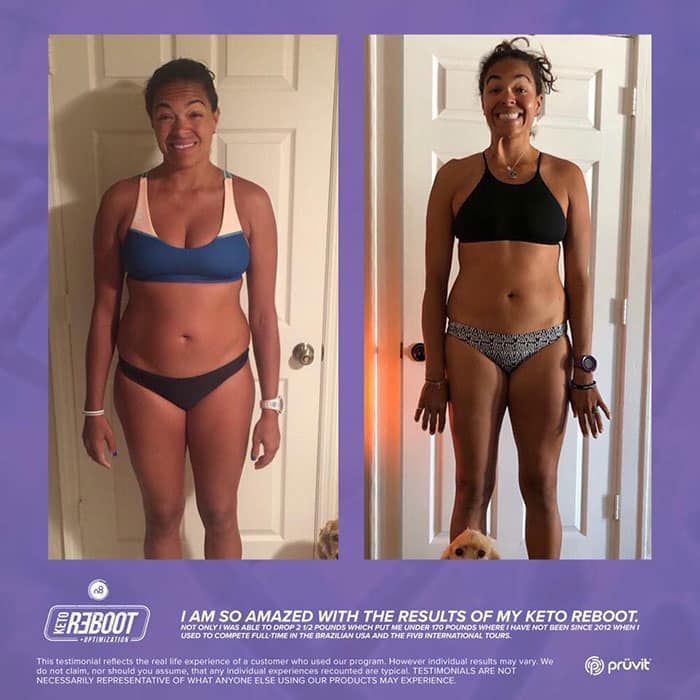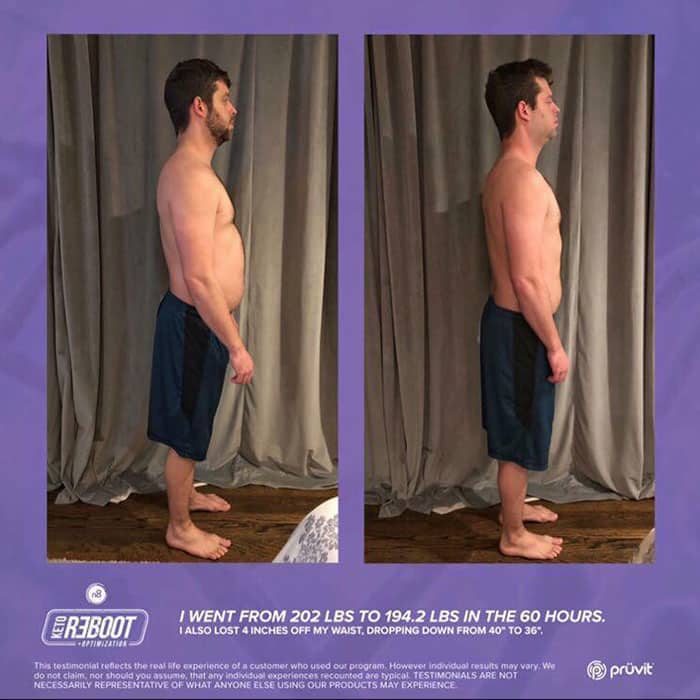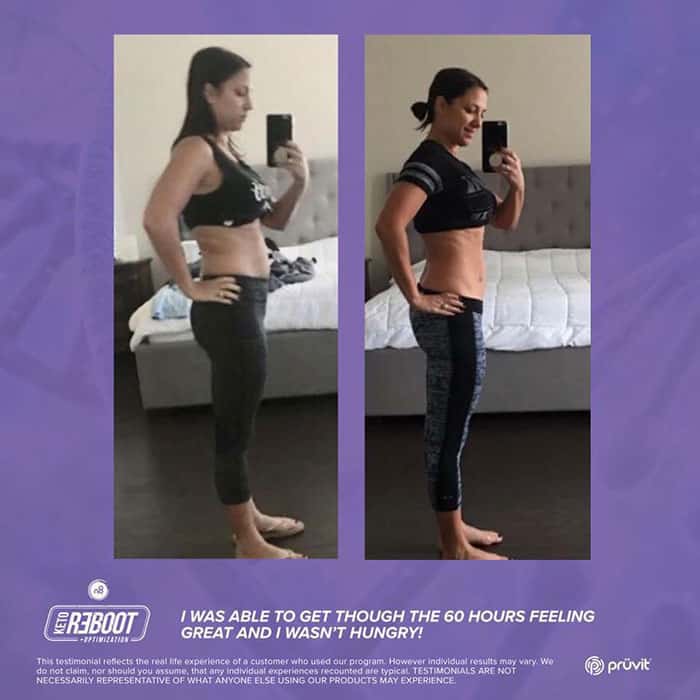 *These Keto Reboot testimonials reflect the real life experience of customers who used the Keto Reboot program. However, individual results may vary. We do not claim, nor should you assume, that any individual experiences are typical. Before and After results are not necessarily representative of what anyone else using Pruvit products may experience.
The Keto Reboot Roadmap for 2020 is as follows:
January 16 – SOLD OUT
February 18 – SOLD OUT
March 15 – SOLD OUT
April 19 – SOLD OUT
May 17 – SOLD OUT
June 14 – SOLD OUT
July 19 – SOLD OUT
August 16 – SOLD OUT
September 13 – UP NEXT!
October 18
November 15
December 13
Commit to BETTER – Get started today!
When you begin your Keto Reboot, you'll have access to the Keto Reboot Facebook community page, where you'll find tips, hacks, and answers to your questions. The Reboot is about pursuing your better, pursuing the best version of yourself in the spirit of human optimization and ketone optimization!